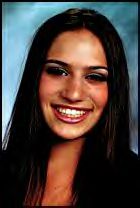 Candice Lopaty died Saturday.

Simi teenager dies in crash on Christmas
By Maria Gonzalez mgonzalez@VenturaCountyStar.com
December 27, 2004
An 18-year-old Simi Valley woman on her way home from visiting a friend Christmas night died after her car plunged 150 feet off a rural and winding back road, authorities said Sunday.
Candice Lopaty had spent Christmas Day with her family and had driven to Chatsworth that night to visit a friend, her family said. She took Santa Susana Pass Road, a stretch of roadway that runs south of Highway 118 and along the northern edge of the Simi Hills. The road connects Simi Valley with Chatsworth and is used by motorists as an alternative to the state highway.


Lopaty apparently lost control about 9 p.m. Saturday while taking a right curve near Box Canyon Road and went over the side, the California Highway Patrol said. The vehicle, which had been traveling at 45 mph, dropped down a hill and hit a tree and rocks before landing upside down, officers said.
It was unknown Sunday whether the victim was wearing a seat belt.
At night, automobile headlights become the only source of light along the road, said Senior Deputy Medical Examiner Armando Chavez. He described the two-lane road as winding and the hillsides as steep.
Lopaty's family expressed concern Sunday about the lack of railing at the site where the teenager's life ended. Her brother Clive Mangum said the railing lining the roadway ended abruptly where his younger sister's car lost control.
"Had this guardrail been 20 or 25 feet longer, my sister could be alive today," Mangum said.
Lopaty was an outgoing and independent woman who always had a smile on her face, said her brother Clint Lopaty.
"She was always just a happy girl. She was sweet and big-hearted."
Lopaty showered her family with attention and affection, especially her seven nieces and nephews, family members said.
"They always were happy to see her," Clint Lopaty said. "She was the favorite aunt."
Lopaty was a couple of years older than her oldest niece, and the girls were more like sisters to each other, Mangum said. Lopaty would pick up her niece from school twice a week so they could spend time together.
"Even though she would be late to work, she wanted that quality time with her niece," Mangum said.
The teenager had worked a couple jobs, including one as sales clerk at Gold N Heart Jewelry in Simi Valley. She had rung up a $3,800 ring purchase on Christmas Eve, one of her first sales, her sister Carrie Gasbarri said.
Lopaty, a recent graduate of Chatsworth High School, had started taking classes at Moorpark College. Although she was still deciding what to study, Lopaty loved taking photographs and making videos, Mangum said.
On Thanksgiving, Lopaty took pictures of her family and had already plastered her bedroom walls with the photographs of her nieces, nephews, brothers and sisters.
During Christmas, Lopaty was concerned that the whole family was not spending the day together, so the entire family had agreed to spend New Year's Eve together at her request.
"She made an effort to get us all to get together," Mangum said.
"She was the most beautiful-hearted person in the world," Clint Lopaty said.
Besides her sister Carrie and brothers Clint and Clive, she is survived by her mother and father, Donna and Roy Lopaty; and brothers Carl Lopaty and Calvin Mangum.
Funeral arrangements are pending.